Page 106 - AHD2122_Cover_04_NewCI-final.indd
P. 106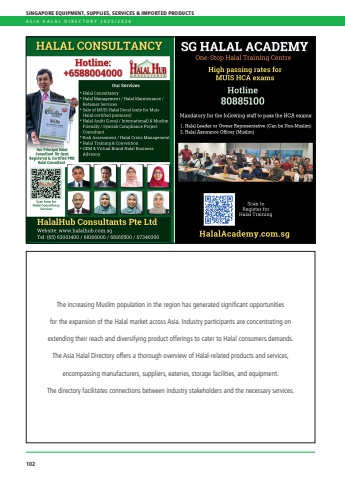 SINGAPORE HALAL CERTIFIED PRODUCTS
 ASIA HALAL DIRECTORY 2021/2022
SPICE PASTE
ENG BEE FOODSTUFFS MFG PTE LTD
30 Defu Lane 3
Singapore 539449 Telephone: (65) 6284 1982
(65) 6285 3532 Facsimile: (65) 6487 6353
Email: sales@engbeefood.com
Contact:
Mr Steven Teo (General Manager)
As one of the leading manufacturers in our trade, our products are manufactured under strict supervision and constantly monitored to ensure consistency in product quality and safe for consumption. All of our products are HACCP and Halal-certified.
Our products include: • Rice Vermicelli
• Laksa Noodles
• Roasted Peanuts
• Roasted Sesame Seeds • Spicy Rojak Sauce
• Shrimp Paste
• Peanut Butter
To ensure optimal freshness, our peanuts and sesame seeds are roasted daily. Our peanuts can be for various uses including:
• Mee Chiam Kuey (Local pancake)
• Topping for ice kacang/ ice-cream
• Popiah
• Rojak
• Satay sauce
• Yu sheng
• As a food ingredient for other
dishes
Our spicy rojak sauce is the first and only rojak sauce made in Singapore. As it is premixed, it can be readily enjoyed with any mixed fruits or as a dip for deep- fried items.
Our customers include supermarkets, sauce-makers, hawkers, bakeries, etc.
Able to provide contract packaging (OEM).
Overseas distributors wanted. All enquiries, including export, are welcome.
(See Ad on Page 83)
SUNWAY FOOD INDUSTRIES PTE LTD Block 3017 Bedok North Street 5 #05-31 Gourmet East Kitchen Singapore 486121
Telephone: (65) 6746 6676
Contact:
Ms Connie Loh Mr David Tan
We manufacture & supply a wide range variety of pre-mixed spices, curry pastes, sauce eg: Onion sambal, laksa paste, mee siam paste, mee rebus paste, chilli prawn sambal, chicken & fish curry paste, lontong paste, rendang paste, chilli crab paste, tom yam hot paste, satay sauce, chicken rice mix & chicken rice chilli.
SPICES
SELVI MILLS
SELVI MILLS (S) PTE LTD
189 Pandan Loop Singapore 126891 Telephone: (65) 6368 4701
Processing oriental spices
like coriander, chilli, turmeric, cumin, fennel, cinnamon, cloves, cardamom, nutmeg, mustard seed, fenugreek etc, lentils & cereals like wheat, rice, barley and ragi, etc
Manufacturing wide range of spice powders like meat curry powder, fish curry powder, turmeric powder, sambar powder, instant rasam powder, pepper powders (white & black), ground cumin, fennel, chilli, coriander, cloves, nutmeg, cinnamon, etc
Manufacturing rice flour, atta flour, besan flour, instant dosai flour, instant idli flour, ragi flour, etc
Manufacturing roasted spice powders for special need Importer of raw spices, rice, etc Exporter of raw spices and ground spices and curry powders
Other Address: 63 Quality Road Singapore 618819
        102
(65) 6552 2161 (65) 6746 4567 (65) 6454 6689
Email:
vismark@singnet.com.sg Website: www.vismark.com.sg
(65) 6778 2693 (65) 6778 7260
Facsimile:
Facsimile:
Email: selvimillacc@yahoo.com.sg Website: www.selvimillsonline.com
Asia Halal Directory
A comprehensive compilation of key industry players in the halal industry.
  Asia Halal Directory
Featuring certified companies in the area of abattoirs, food preparation, whole plant, manufacturers of food products, and providing relevant supporting products and services to the community.