Page 78 - AHD2122_Cover_04_NewCI-final.indd
P. 78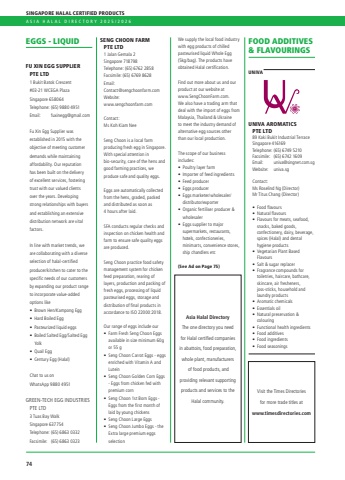 SINGAPORE HALAL CERTIFIED PRODUCTS
 ASIA HALAL DIRECTORY 2021/2022
BEVERAGES
EXTRA EXCELLENCE
MANUFACTURING
EXTRA EXCELLENCE MANUFACTURING (S) PTE LTD
3A-3E Senoko Crescent Senoko Food Connection Singapore 758292 Telephone: (65) 6752 1819 Facsimile: (65) 6752 0959 Email: admin@mfg.eexcel.com.sg
Manufacturing and packing of powdered beverages, food capsules and tea products.
YHS
YHS (SINGAPORE) PTE LTD
3 Senoko Way
Singapore 758057
Telephone: (65) 6849 6894 Facsimile: (65) 6257 2117 Email: enquiries@yeos.com Website: www.yeos.com.sg
With a corporate history that extends more than a hundred years, Yeo's has grown from strength to strength, from its humble beginnings as a striving enterprise in pre-war Singapore, to its transformation as a food & beverage conglomerate with a global network that spans
the Asia-Pacific, Europe, North America and Oceanic regions.
A leading name in the Asian drinks market, Yeo's has broadened its customer reach and entrenched its industry presence through a combination of geographical expansion and product diversification. On the beverage business front, Yeo's competitive advantage lies
in the Group's ability to stay
true and current to consumers' changing palettes and individual preferences based on lifestyle and cultural differences.
COFFEE
AVANTI FOOD
AVANTI FOOD INDUSTRIES PTE LTD
Sole-Distributor: East-West International Food Pte Ltd
Office:
Block 3015A Ubi Road 1
#06-15 Mapletree Industrial Singapore 408705
Telephone: (65) 6547 4891 Facsimile: (65) 6741 8813
Email:
ewifood@singnet.com.sg Website: www.espresso.com.sg
Established in 1978, East-West International Food Pte Ltd., is the leading Singapore distributor of espresso coffee and espresso coffee machines.
Our market consists of countries throughout the entire Asian region.
Distribution:
3020 Ubi Avenue 2 #01-101
Singapore 408896
CONFECTIONERY & BAKERY SUPPLIES
4FINGERS PTE. LTD. 201 Keppel Road Singapore 099419
ENG BEE FOODSTUFFS MFG PTE LTD
30 Defu Lane 3
Singapore 539449 Telephone: (65) 6284 1982
consumption. All of our products are HACCP and Halal-certified.
Our products include: • Rice Vermicelli
• Laksa Noodles
• Roasted Peanuts
• Roasted Sesame Seeds • Spicy Rojak Sauce
• Shrimp Paste
• Peanut Butter
To ensure optimal freshness, our peanuts and sesame seeds are roasted daily. Our peanuts can be for various uses including:
• Mee Chiam Kuey (Local pancake)
• Topping for ice kacang/ ice-cream
• Popiah
• Rojak
• Satay sauce
• Yu sheng
• As a food ingredient for other
dishes
Our spicy rojak sauce is the first and only rojak sauce made in Singapore. As it is premixed, it can be readily enjoyed with any mixed fruits or as a dip for deep- fried items.
Our customers include supermarkets, sauce-makers, hawkers, bakeries, etc.
Able to provide contract packaging (OEM).
Overseas distributors wanted. All enquiries, including export, are welcome.
(See Ad on Page 83)
CONFECTIONERY & PASTRY PRODUCTS
BREADWERKS
81 Joo Chiat Road #01-02/03
Singapore 427725 Telephone: (65) 6732 5115
CHUAN LECK FOOD
CHUAN LECK FOOD INDUSTRIES PTE LTD Block 15 Woodlands Loop #02-53/54
Singapore 738322 Telephone: (65) 6481 1227 Facsimile: (65) 6257 6869 Email: sales@chuanleckfood.com.sg Website: www.chuanleckfood.com.sg
Contact:
Mr Tan Joo Huah Ms Chen Qin Ying
Established in 1995, Chuan Leck Food Industries is one of the leading supplier of confectionery/ pastry fillings in Singapore. With at least 20 years of experience in the industry, we pride ourselves on delivering a variety of confectionery and pastry fillings. We are ISO 22000:2018 and Halal certified which conveys of our commitment to delivering healthy and wholesome products with adherence to the strictest hygiene standard.
Our products:
• Chicken floss (Original/spicy/
five-spice/chilli prawn flavors) • Red/Green bean paste
• Yam paste
• Curry (Chicken) filling
• BBQ chicken filling
• Black pepper chicken
• Char siew chicken
• Coconut filling
• Chicken mushroom
• Chicken pie filling
• Chilli prawn filling
• Chilli ikan bilis
• Hong Kong chicken char siew • Mashed potato
• Nonya curry chicken
• Rendang chicken
• Sambal chicken
• Sweet potato filling
• Sardine filling
• Satay chicken
• Teriyaki chicken
• Vegetable filling
• Vegetable tuna filling
DELI ASIA (S) PTE LTD
15 Senoko Drive
#05-06 JTC Food Hub@Senoko Singapore 758202
Telephone: (65) 6752 2123 Facsimile: (65) 6752 7828 Email: enquiry@delisnacks.com
                  (65) 6285 3532 (65) 6487 6353
Facsimile:
Email: sales@engbeefood.com
Contact:
Mr Steven Teo (General Manager)
As one of the leading manufacturers in our trade, our products are manufactured under strict supervision and constantly monitored to ensure consistency in product quality and safe for
  74
Asia Halal Directory
A comprehensive compilation of key industry players in the halal industry.