Page 98 - AHD2122_Cover_04_NewCI-final.indd
P. 98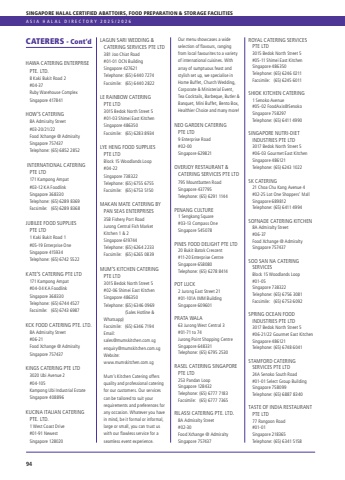 SINGAPORE HALAL CERTIFIED PRODUCTS
 ASIA HALAL DIRECTORY 2021/2022
NOODLES – Cont'd HONG KONG NOODLE
MFG (S) PTE LTD
Block 3015 Bedok North Street 5 #04-07 Shimei East Kitchen Singapore 486350
Telephone: (65) 6365 0788
(65) 8383 1668
Email: hongkongnoodlemfg@gmail.com Website: www.hongkongnoodle.sg
Contact:
Ms Dorrine Kew (Director)
Hong Kong Noodle Manufacturing (S) Pte Ltd has been established for more than 20 years and we are committed to continue to produce a variety of premium quality and of high nutrition fresh noodles. We distribute to major airlines, hotels, restaurants, food courts, coffee shops, hawkers and government schools.
All our products are manufactured under stringent HACCP standards and are Halal certified:
– Premium Hong Kong Egg
Noodle
– Hong Kong Ee Fu Noodle
– Spinach Noodle
– Wanton Noodle
– Japanese Ramen
– Shanghai Handmade Noodle
– Mee Poh
– Wanton Skin
– Dumpling Skin
– Dim Sum Skin
KWONG CHEONG THYE PTE LTD
12 Senoko Avenue
Singapore 758302
Telephone: (65) 6748 7766 Facsimile: (65) 6286 5948 Email: enquiry@kctsoya.com Website: www.kctsoya.com
Contact:
Ms Pauline Koh (General Manager)
Kwong Cheong Thye (KCT), a sauce pioneers that started in 1892 in China, continues to offer products that suit the changing lifestyles of consumers today and offer cooking convenience to consumers during Chinese festivals.
In addition to its soy speciality sauces, also makes quality mooncake pastes for the Mid- Autumn festival and Fa Cai Yu Sheng packs (tossed raw fish
salad) for the Lunar New Year. The Company also supplies quality Chinese noodles and pastry skins for dumplings and buns to major food service operators. KCT intends to maintain its success through product innovation and expansion in export markets in ASEAN & East Asia.
LEONG GUAN FOOD MANUFACTURER PTE LTD
7 Woodlands Link Singapore 738722 Telephone: (65) 6754 7911
(65) 6752 4188 Facsimile: (65) 6756 1531
Email:
enquiry@leong-guan.com Website: www.leongguan.com
Founded in 1996, Leong Guan is a Singapore food manufacturer that specialises in producing noodles and related products, with its own logistics arm. The production facility is ISO 22000, HACCP and its manufactured products Halal certified. The company is a Tasty Singapore ambassador, and with a focus in innovation, it pioneered Wholegrain Noodles back in
2012. Wholegrain noodles were subsequently pick up by Singapore Health Promotion Board (HPB)
as a healthier alternative to traditional local noodles.
Formed to cater to the needs of noodles lovers who enjoy and appreciate the taste of eating delicious noodles, Leong Guan has since grown rapidly over the years. Our noodle manufacturing facility was set up in 2006, making us one of the pioneers of adopting hygienic fully machine- operated noodle manufacturing in Singapore.
Leong Guan's popular healthier choice certified noodles are:
• LG Wholegrain Noodles,
LG Wholegrain Mee Tai Bak, LG Wholegrain Kway Teow, LG Wholegrain Mee Kia,
LG Wholegrain Mee Pok, etc.
Noodles aside, Leong Guan also supplies a variety of products that are produced daily such
as: wanton/dumpling wrappers (skins) and beancurd products such as tofu and salted beancurd (taukwa). We have also added to our product portfolio a list of complementing products such
as bean sprout, fish ball, frozen products and vegetarian cuisine.
Since our founding, we
have developed an in-depth understanding of the different and various tastes and likes of our customers and consumers. Apart from traditional local noodles,
the company also produces international noodles from
Hong Kong Wanton Noodles, to Japanese Ramen and fresh Italian Pasta. We also provide OEM services to several organisations where they require specific types of noodles that are not commonly accessible in Singapore.
Our vision is to be Asia's trusted partner of exceptional quality noodles and food products defined with our mission as creating lasting partnerships through good food, service and people. We are also looking for suitable agents to market our very own brand "LG", specifically for overseas markets.
All our products are covered with Product Liability Insurance and we provide island-wide delivery series in Singapore. With a dedicated logistics team, Leong Guan aims to provide a one-stop solution for our food service customers.
TAI THONG FOOD MFG PTE LTD
6 Defu Lane 2
Singapore 539466 Telephone: (65) 6280 1783
(65) 6287 7166 Facsimile: (65) 6280 2892
Email: ttfmpl@singnet.com.sg Website: www.taithongfood.com
We are comprehensive manufacturers and exporters of: • Noodle (plain/with egg)
• Vermicelli (flour/rice)
• Stick noodle
(dried noodle sticks) • Sam Lock egg noodle
Our products are noted for high consumer appeal. We use first class ingredients and support
it with good packaging and delivery.
We cater and supply to food courts, caterers, wholesalers, eateries, restaurants & supermarkets.
NUTS
CHUI HIANG PTE LTD
26 Senoko Crescent Singapore 758277 Telephone: (65) 6756 6328 Facsimile: (65) 6756 8069 Email: info@chuihiang.com.sg Website: www.chuihiang.com.sg
Since 1955 Chui Hiang brand of nuts & crackers has been enjoyed by generations.
We believe in strict quality control and our vision is to continually explore and innovate, from ingredients to technology, will always be aimed at developing better and tastier snacks to
serve our loyal customers. Who doesn't want the perfect tidbit to go with that drink? We give you classic favorites, yet experiment with new flavours to give you unexpected tasty options. New machines ensure everything is prepared, sealed and presented in convenient handy portions fitting the modern urban lifestyle.
OTAH-OTAH
LEE WEE & BROTHERS' FOODSTUFF PTE LTD 42 Lorong 1 Realty Park Singapore 536959 Telephone: (65) 6535 6535 Facsimile: (65) 6835 6835 Email: info@leeweebrothers.com Website: www.leeweebrothers.com
A local household brand synonymous with quality otah, Lee Wee & Brothers takes pride in a family-run business philosophy that emphasizes traditional recipes and methods. Having been around for two decades,
the homegrown chain earns a reputation for delivering the
most original, authentic and sophisticated taste of Singapore
- the taste of the good ol' days.
        94
Look up the
Asia Halal Directory
for a comprehensive list of Halal Certified Eating Establishments.